If you want to know how to access your vendor dashboard, take a look at this article first.
This is what your vendor dashboard could look like. The listings are then each equipped with individual names for your locations.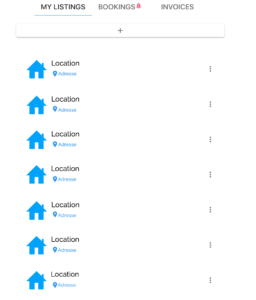 If you want to create a new listing, you can simply click on the "+".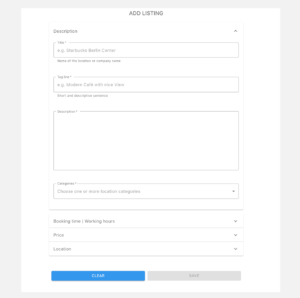 In the first step you can give your location a name and a description. You can also fill in the field "Tag Line". Here we recommend a short description of the type of location to simplify the search for our advertisers.
With the selection of our predefined categories, your location can then be grouped by us.
- Do you have the feeling that none of the categories fit your location? Then contact us directly here and we will gladly add another one!
Once you have filled out the descriptive part of the listing, you must now specify further conditions. These include the possible booking period for advertisers and the opening hours of your location. In the next step you can enter a price for your listing. If you are not sure how to set your price, we recommend that you look at the other locations in our platform to help you get a better feeling.
The last step is to enter the address where the screens are located.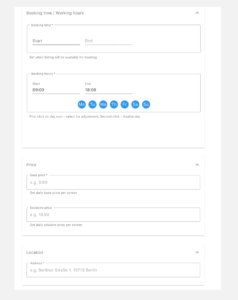 Once you have filled out everything, you can save the listing and then add photos and further information afterwards. As soon as you have a connected a player you can set the location to "Online". After a quick approval from our side, your location is then immediately available for advertisers.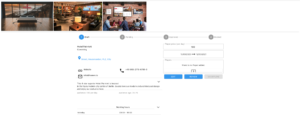 Here you can find out more about bookings.
Here you can find out more about Invoices.
Do you have any further questions?
Do not hesitate to turn to one of our experts at info@framen.io or call us at +49 (69)-2713-6789-0 . Alternatively you can click here to arrange a free consultation appointment.