Helping in times of COVID-19 
FRAMEN provides a channel for fake-news free reports
While coronavirus (COVID-19) is continuing to push the world into uncharted territory and politicians, the pharmaceutical industry and manufacturing are looking for ways to manage the pandemic, the digital out-of-home (DOOH) and digital signage industries are taking on new significance. 
With our unique technology to bring data smarter to the right people in real time on screens, we take it for granted to help spread important public health information. We have collaborated with various local stakeholders to then develop a model that makes it easy to spread the latest urgent news and preventative hygiene measures to support their local emergency management.
Information supply -- especially for the risk group
By far not everyone can be reached via their smartphone with the latest news - in particular not the older "non-twitter" generations. Especially in current times, the supply of non-fake information must also be guaranteed for the older generations. Providing the latest information to all people - without depending on a device such as a smartphone - is easy via screens in public places. FRAMEN's screen solution, which can be described as a hybrid of digital signage, streaming and digital out-of-home (DOOH) technology. is helping to combat the COVID 19 pandemic. Therefore, screens in pharmacies and retail stores can easily be connected to FRAMEN to transmit messages in real time..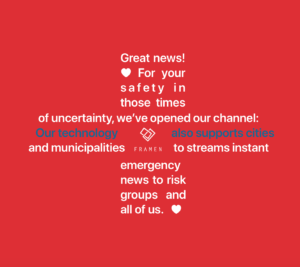 Pharmacies are increasingly providing their customers with the latest news
Reaching its citizens with relevant and most importantly correct information is in the interest of the city. Pharmacies and grocery stores in particular play a fundamental role for the towns and municipalities, which is why FRAMEN is now making this exclusive solution available even free of charge in the sense of a better guarantee of comprehensive information supply.
Mix of entertaining and emergency-related COVID-19 content
In addition to breaking news, creative educational campaigns are shown with the message to stay at home when you are ill, not to touch your face and to wash your hands frequently for at least 20 seconds.
"We inform the population about how to protect themselves against the threat of the corona virus (COVID-19) and what resources they can access. Cities and municipalities can give their inhabitants significant added value by sharing their newsflashes in visible areas in addition to local print media such as daily newspapers. Digital surfaces such as screens with the right streaming technology behind make it possible to share urgent messages in real time" explains Dimitri Gärtner, CEO of FRAMEN.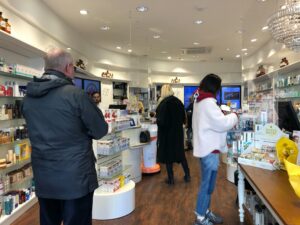 But it is not only pharmacies that are an important anchor for the dissemination of information to the public. Other commercial locations with screens such as retail stores in general or gastronomic establishments also use FRAMEN to enrich their own screen contents and planned advertising campaigns of external brands with some breaking news. The result is a valuable source of information for customers and the general public.
In solidarity against COVID-19
Today there are also solidarity movements on other media industry platforms: Google and Facebook announced in the last few days that they will also support in times of Covid-19. Significant advertising budgets will be released for the good cause.
Facebook's move against fake news
The social network Facebook grants an advertising voucher of $100 million for the publishing industry. As with FRAMEN, it's about the distribution of non-fake news. A quarter of the advertising budget is allocated to local journalism to keep people up to date with truthful news via the people's smartphones and PCs. "If people needed more proof that local journalism is a vital public service, they're getting it now," said Campbell Brown, Facebook's vice president for global news partnerships, in the press release dated March 30, 2020. The company thus makes a decisive contribution to the containment of misinformation published on the platform.
Google promotes news from WHO and authorities
Google has committed a total of $250 million in advertising budget to the World Health Organization (WHO) and national authorities to spread important information via advertisements about Google search. In addition, Google is granting SMEs affected by the Corona crisis an advertising budget of $340 million so that they can continue to display ads for their products and services.
Show solidarity and help with core competencies
In times of crises such as the Corona pandemic (Covid-19), the top priority is to show solidarity. FRAMEN sees its role in fostering accurate reports and providing local emergency news to relevant audiences. Also FRAMEN allocates a dedicated advertising budget to companies in difficult situations.
High quality and accurate reporting is more important than ever, as misinformation about the virus can easily spread. 
Stay safe!