Local Stories with APX Axel Springer and Porsche
FRAMEN in Berlin
We are excited to announce proud news: Our business model convinces APX Axel Springer and Porsche and we are now part of the Accelerator program! As part of the investment, FRAMEN is expanding into the pulsating capital since November.
Growing with APX Axel Springer Porsche
APX is a joint venture of the Axel Springer media group and the automobile company Porsche. The Accelerator invests across industries and focuses on individual support in the "Tailormade" program. The program focuses on digital, customer-centric business models from Europe and Israel, with innovations in the media industry, mobility and marketplaces playing an important role in their networks. With APX, we are taking our vision of next-level communication further. We see the combination of a valuable tradition and disruptive innovation as well as a strong network as an extremely interesting environment for new technologies.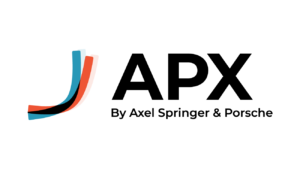 After valuable pilot projects, now also the first well-known franchisers like A&O Hotels, Moxy Hotels or the musical theatres of the European entertainment company STAGE Entertainment are part of the FRAMEN ecosystem. They use FRAMEN to place their own content on their screens and generate digital advertising revenue at the same time. Our digital marketplace is characterized by an extremely democratic approach.
Digitization as a profitable revenue driver
Almost no expenditure, but incremental sales. FRAMEN creates a new revenue case in which currently 70% of the booked advertising budget flows to the screen providers. Our customers find this extremely appealing! Digitization is becoming a profitable revenue driver - alongside and without additional effort. Hotels, for example, can display their screens with gastronomic offers and information about the hotel, and their own "TV channel" can also be enriched with the latest news and stories from external advertisers.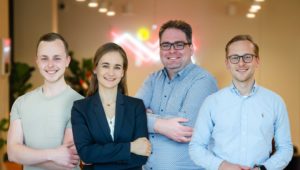 Proud founding quartet (from left): Alexander Gärtner (COO), Magdalena Pusch (CMO), Sveatoslav Podobinschi (CTO), Dimitri Gärtner (CEO)