Advertising with no words
the advertising effect of silent videos
"Use all the senses to reach your customers!" What theory preaches sometimes looks different in practice. Because brand communication sometimes has to be understandable even when muted: like on screens of DOOH media or even silent advertising in news feeds. Thus, the auditive dimension of perception, with which the consumer is supposed to be drawn deeper into the spell of the brand, is no longer applicable. But it also works without any sound: Read here how you can make your product tangible nonverbally and without words.  
more flexibility in display media
An inspiring example that advertising works without spoken words and even without any conversation or even that burger purchases can be understood non-verbally is shown by an advertising spot from McDonald's Germany: The plot is told non-verbally, but with short text phrases shown. "Young adults are at the centre of our brand appeal, in which communication at eye level is indispensable. So it is natural to tell stories from their world and thus to make the brand tangible, experienceable and approachable" (translation), explains Susan Schramm, CMO of McDonald's Germany.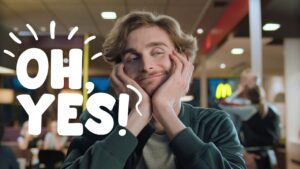 cost-effective reusability
Non-verbal dialogues enable a higher flexibility in the choice of media and maximum reusability of the advertising content: The display of silent advertising on typical media with an auditory dimension like it applies to cinemas, linear TV, online video platforms like YouTube, social media platforms and co. can be extended by further media and display forms. If one analyzes user behavior on social media, one third of all videos on Snapchat are, according to their own statements, played without sound, for Facebook it is even 85 percent of users who watch videos silently. Mobile media consumption in public has a considerable influence here, which marketers and agencies must bear in mind.
visual text or subtitles for greater reach
For consumers to understand your advertising videos without sound, any supporting text, keywords and phrases or subtitles are essential. In addition, these simply have an enormously positive effect on the viewer: important things are evoked and underline the visual presentation.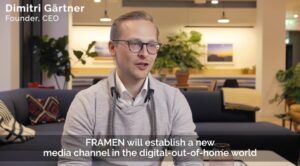 Not only that 70 million more people worldwide can understand your advertising, because too often the deaf and hard of hearing part of society is unfortunately forgotten in the branding! In Germany for instance, according to the Association of the Deaf there are about 80,000 deaf people and even almost 16 million people who suffer from hearing loss - that's almost 20% of the German population!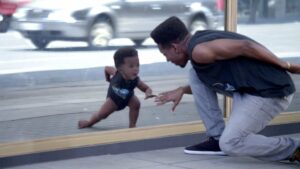 Storytelling completely without any text elements also works, as for example the beverage manufacturer Evian in its commercial with the dancing babies shows. The advertising video intends to combine the feeling of ease and physical fitness in connection with their product. One may not dismiss the possibility that the non-verbal commercial shows a cost efficient argument in production: The spot can be shown across language and country borders and its message will be universally understandable due to the non-existing language barrier. 
Focus on certain senses of perception
In fact, some advertising without spoken words has a greater impact: taciturnity can even be a success factor e.g. in fashion advertising. Focusing on impressive images can also trigger strong emotions, as creativity, memories and the viewer's own imagination. Spoken words would in some cases be distracting and can hinder or interfere with the " dive " into the world of the commercial. Market research studies on advertising impact, such as those by MediaAnalyzer and Grandt, confirm in the case of advertised fashion that less can often be more.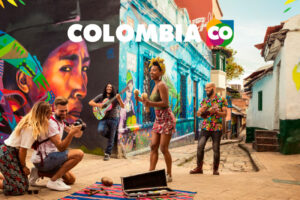 can advertising work completely without spoken words?
As the example above shows, storytelling can also work without using any words. It is important to note that by eliminating one important perception dimension, a strong brand image still can and should be created. The message of the advertising video or slide must be understandable. Preferably, textual information and keywords are shown to highlight important statements. In addition, the aim should be to create maximum visibility for the brand with impressive visual material and an exciting plot of the commercial.
"You only have one to five seconds as a brand to attract people's attention. If you're not interesting right from the start, your ad won't be viewed" (translation), explains Tim Keller, Executive Director Brand Strategy & Innovation at the marketing agency Kolle Rebbe.
What doesn't attract attention doesn't work - and language doesn't have to be by far the only tool to make a brand visible.