Think globally, Advertise locally?!
The 2 most important core elements of regional advertising in a globalized world
Everyone knows - in order to reach customers, they must feel addressed. But is there a secret formula? Basically, advertising should fit the target group. There are local, regional and cultural differences that are decisive when it comes to making target groups happy - beyond city and country borders. The local reference to the target group is not an issue that only affects multinational corporations. Even within a city, region or even nation there are differences, which is why consumers feel more or less addressed.
Does regional connection even make sense for advertisers?
Preserve your corporate identity (CI) and speak like a local resident at the same time. On the one hand, a company should not fake its advertising campaign in order to gain a local connection; it should remain true to its basic principles and core values. On the other hand, a regional framework with cultural-individual and regional-linguistic characteristics should also be created. An advertising campaign with a good mix of CI and regional reference gets people's attention more easily - to entertain and inspire them.
Ads that tough the heart
Once the advertising campaign has been launched and can be seen on advertising media such as "digital out-of-home" (DOOH) screens in public spaces, an appealing message can be spread easily through word-of-mouth recommendation. If exactly this is the case, then one can speak of a successful marketing campaign. Because the message sparked off like a ray into the world and spread without additional advertising budget further within society. How can you achieve this as an advertising company?
Prepare well for local market entry
At the beginning of every advertising activity, of course, there is an intensive getting to know the respective markets and the behaviour of the target groups locally. Comparable as with journeys into an unknown environment: If one travels into a new city, one must become acquainted with the way of thinking of humans, who live, work and learn there, how they interact with other people. For example, the local delivery service Postmates from San Francisco carried out weeks of on-site research before the company finally launched a campaign in New York. Their language - above all with their "We Get It" slogan - had to close a gap with the New York way of life and behaviour.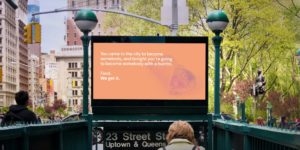 Connecting CI with local behaviour
Along with the research, Postmates understood that New Yorkers, for example, usually have certain beliefs and behaviors: First, New Yorkers have a plan of life. People are in the city of dreams for a reason. Namely, to develop with new inspiration and to become someone very special. Second, their eating habits. New Yorkers or Postmates' target group doesn't want old, smeared hamburgers, but fresh 100%-all natural burgers or a fancy burrito.
Exactly these insights were locally essential key issues. Postmates used this knowledge about the local way of life to place their brand in a visible way. Their outdoor advertising campaign has been a complete success, because "Postmates has always had a very strong digital and social advertising presence as a technology company, but awareness marketing becomes more important as the brand matures," Lizz Niemeyer told AdWeek.
Advertising that originally fits to current local affairs with word games, local-referred pictures or funny slogans is well received.For example, the airline Condor placed ads in the Frankfurt area and utilised the "green sauce" - a local-typical traditional dish mainly in summertime - as a regional element in her campaign. Or Ritter Sport, which addressed its customer group with regional local charm on advertising graphics in Hamburg. Certainly, creative minds are needed to create a marketing campaign with statements that make the target group smile and unifies the company, the product and the local region. But good marketing would not be an art if there was nothing simpler.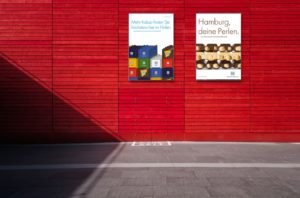 If a company manages to place sophisticated advertising in public space, this can even have an inspiring effect on the target group. Companies should always be guided by the following principle: A conscious investment in regional/local tailored advertising ultimately leads to a better conversion and thus to a successful marketing campaign.
Image sources: own, Postmates, Ritter Sport.