Results-oriented marketing campaign with FRAMEN
How PrepMyMeal wins sporty and health-conscious customers
Winning new customers nowadays is not as easy for especially young, aspiring companies. A range of advertising media - but with which does one really fall into the eyes of a powerful target group without unnecessary spreading? On this search was PrepMyMeal, who wants to reach young, fitness enthusiastic and health conscious people with their current campaign.
Is there a place where customer group are concentratedly present? Is there perhaps even a certain type of location in which the target group regularly frequents? PrepMyMeal also addressed such questions before launching its marketing campaign to promote its delicious and healthy pre-cooked meals. In the end, the two founders decide that their young, sporty and nutrition-conscious target group highly frequents at one particular location: Fitness studios such as Elements. On top of that, one who just finished his training feels the need for a proper meal besides a shake & protein bar.
"We can place our current offers directly where our target audience's stomach growls."
After training, the customer checks out at the gym and can simply take the desired dish from the refrigerators home or to the office. The current PrepMyMeal offer is visibly placed. A simple glance at the screens gives all information: Present in sight, the company places the latest dishes and hot deals with the FRAMEN solution and provides clear and creative information about fitness-conscious healthy eating. "It is important to us that we stay in the customer's head and that he takes something home - even if that is new knowledge," smiles Kevin, co-founder of PrepMyMeal.
Marketing campaign with direct conversion
Fitness conscious people know: Protein intake directly after training is most effective! Easily digestible foods should be preferred, as the body can absorb nutrients more quickly and regeneration can be supported by hard training. This is how you achieve the best results through training. With the fresh and tasty PrepMyMeal dishes, the athlete also saves time, as intensive shopping and time-consuming cooking are no longer necessary.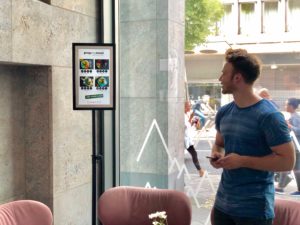 PrepMyMeal can also control its advertising mobile via FRAMEN
"Although we are a kind of long-term customer of FRAMEN, we can change our content as often as we want," says co-founder Jonas. PrepMyMeal uses the FRAMEN solution as a mouthpiece. They can control their ads like advertising slides, infographics and videos in a suitable and flexible way according to their offers . Advertisers can book screen time with FRAMEN. What is shown during the booked screen time, however, advertisers can plan flexibly and also manage spontaneously. This is the big difference to print advertising.
And yet PrepMyMeal's flexibility is so valuable: With FRAMEN, Kevin streams advertising directly from his office or on the move to the corresponding booked screens. He can control the content either via PC or mobile phone. One click and in a matter of seconds, the current ad is in the field of vision of their customers. So there are always new things about the PrepMyMeal world in our locations like for example the Elements, the Fitbox City or the Lauenburg Crossfitbox. 
How successful has the marketing campaign been so far?
9 of 10 fitness studio members already know the brand. PrepMyMeal started at the beginning of July 2019 with a 14-day free test phase, whereby they felt a significantly stronger demand directly from the first day. Together with FRAMEN, PrepMyMeal is growing on the screens of new locations that will become part of the FRAMEN marketplace.
Marketing campaign simply extended to other locations about FRAMEN
In the meantime, PrepMyMeal has extended its marketing campaign to co-working spaces and offices via the FRAMEN channel, as the hungry target group is also romping about there. "Our customers find the new communication medium really appealing! In contrast to flyers or posters, our customers perceive the ads more as information than as typical advertising".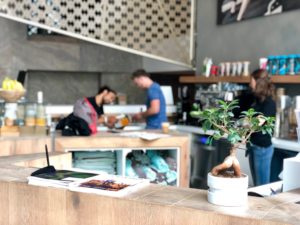 Image sources: PrepMyMeal (title picture), own