The perfect advertising message
360° effective communication
Phrases like "the power lies in communication" are familiar to all of us. We are aware that the success of advertising depends on how information and statements are transported and how they reach the audience. In most cases, product launches fail not because of the product itself, but because of unsuccessful communication. Therefore, advertisers should not leave the when, how and what of advertising to the coincidence. Here comes the ultimate guide on how to strategically place advertising and communicate it sensibly and purposefully. 
Questions such as "How and with what content can my advertising really trigger sales by the customer" and "When and where is my advertising best perceived by the target group with the highest purchasing power" indicate that it is apparently not advisable to hope for the success of advertising through arbitrary decisions. This leads back to a certain strategy: It leads back to planned and targeted communication. To leave nothing to chance, all projects deserve a well thought-out communication strategy. How can communication contribute to the achievement of converting advertisement?

These are the 10 building blocks for successfully communicated advertising:
1.  Holistic…
All communication - i.e. its contents and topics - is linked to the company and its products. The objectives, style, content and tone of advertising communication should therefore be consistent with the company's vision and values. Die Corporate identity or Corporate identity (CI) must therefore also be reflected in advertisement.
This red CI thread should also be reflected in all marketing channels on which the advertiser communicates. This preserves authenticity and creates recognition value. CI consists of different components: Corporate culture, corporate design, corporate behaviour, and corporate communication. These 4 components form a CI, which from the point of view of different stakeholders may be perceived in different ways: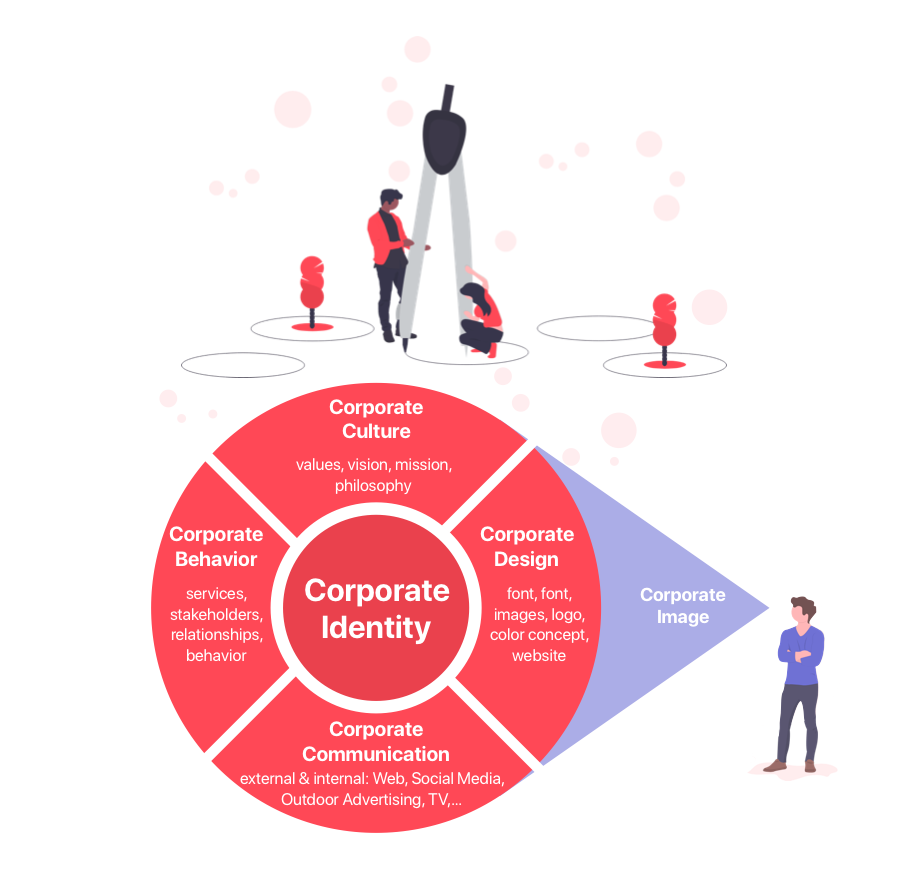 2.  …but please no mainstream boredom 
People love variety and surprises. Wordplays or even whole advertising campaigns that resemble the competition are fatal. That's why the market should always be kept in mind on the competitor side. Who positions itself as the price leader? Who positions itself as the "longest praline in the world"? On the one hand with regard to relations or superlatives in market positioning such as the last example, on the other hand with regard to slogans, images and stories every advertiser should define his/her individual advertising message. 

One approach is to take advantage of the weaknesses of the competition. Learns from your past mistakes - and also from those of others! If a competitor's advertising campaign receives a lot of negative headwind, actions may have to be taken in your own planned strategy.
Even if your core message - e.g. as a corporate vision - always runs like a red thread through your entire advertising, stories and specific sub-messages of individual advertising campaigns should change . In this way one wins the attention of the consumers again and again. The opposite bores the target group and is no longer noticed by the time: The advertisement merges with the townscape together to the "fixed environment".
3. Advertising that convinces - not manipulates
Advertising serves to increase sales. This means that the advertising message must also trigger the customer's desire to buy. The aggressive, old sales school sets itself the goal to wrap the customer around the finger. However such sales tactics can become fast uncomfortable, the potential customer in embarrassment bring and a negative picture on the mark throw. In the best case such a sales tactic may lead to a conclusion, but after short time the customer will regret its purchase decision. Which recruit-rubbing enterprises want nevertheless however actually: the customer lastingly of the increase in value of the product to convince. 
This is accompanied by the fact that customers are not manipulated in their purchasing decisions, but first of all educated. With more knowledge about the product, the application areas and the problems of benchmark products, consumers can make completely different decisions. In addition, the customer will also speak directly more positively about your company: positive word-of-mouth propaganda can "infect" other customers and above all strengthen customer loyalty.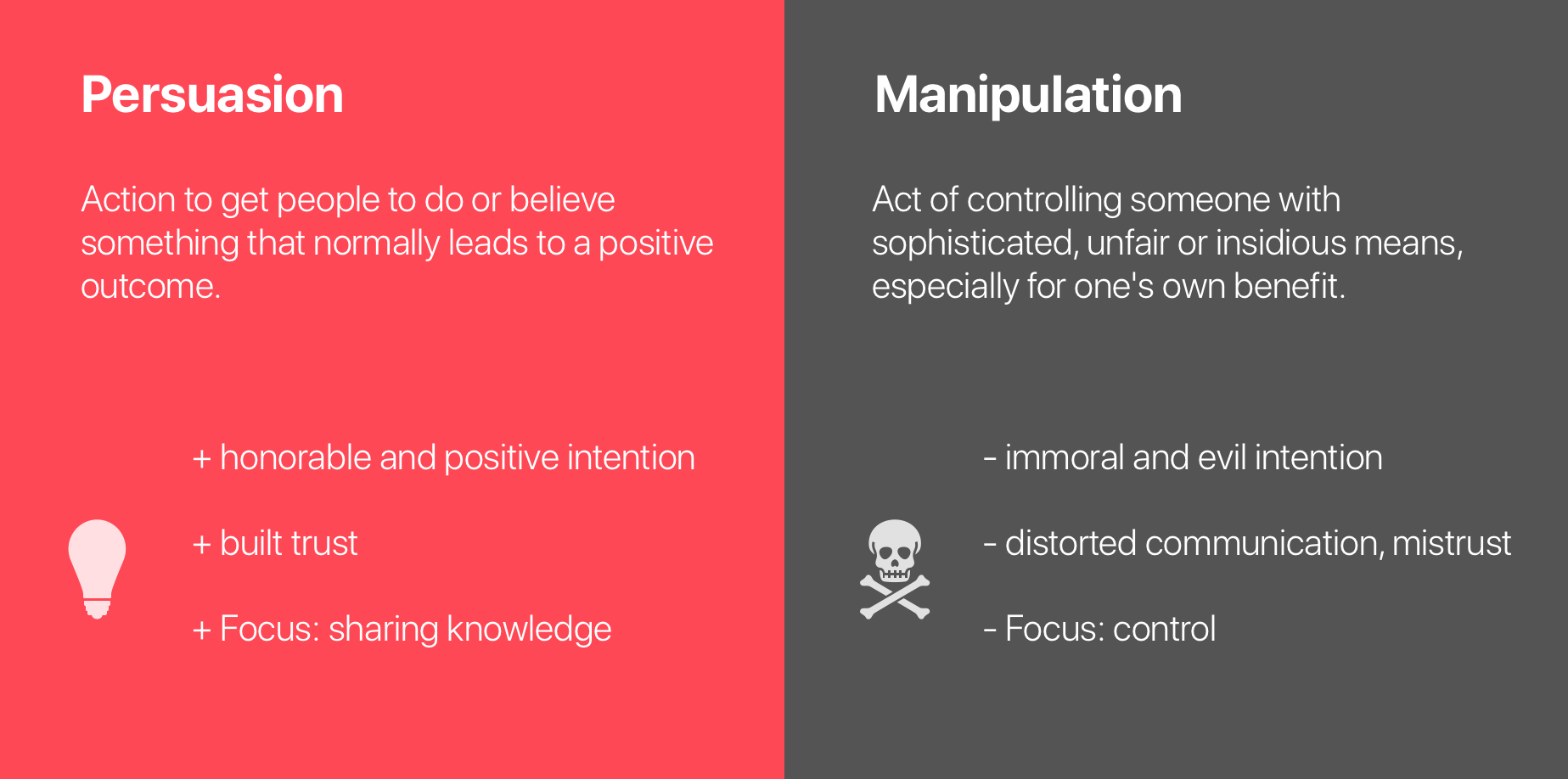 By the way: We would not recommend communicating "free products" - as this might trigger a wrong impression. Better present your offer with a " money-back-guarantee ". 
4. Fitting message in text and image 
Advertising should be clear and understandable. The following key questions apply: What is the main message? If consumers perceive the message, what should they remember? How should the message be designed and communicated? As the viewer gets a first impression of the seen advertisement within the first 3 seconds, one should consider a clear and interesting communication.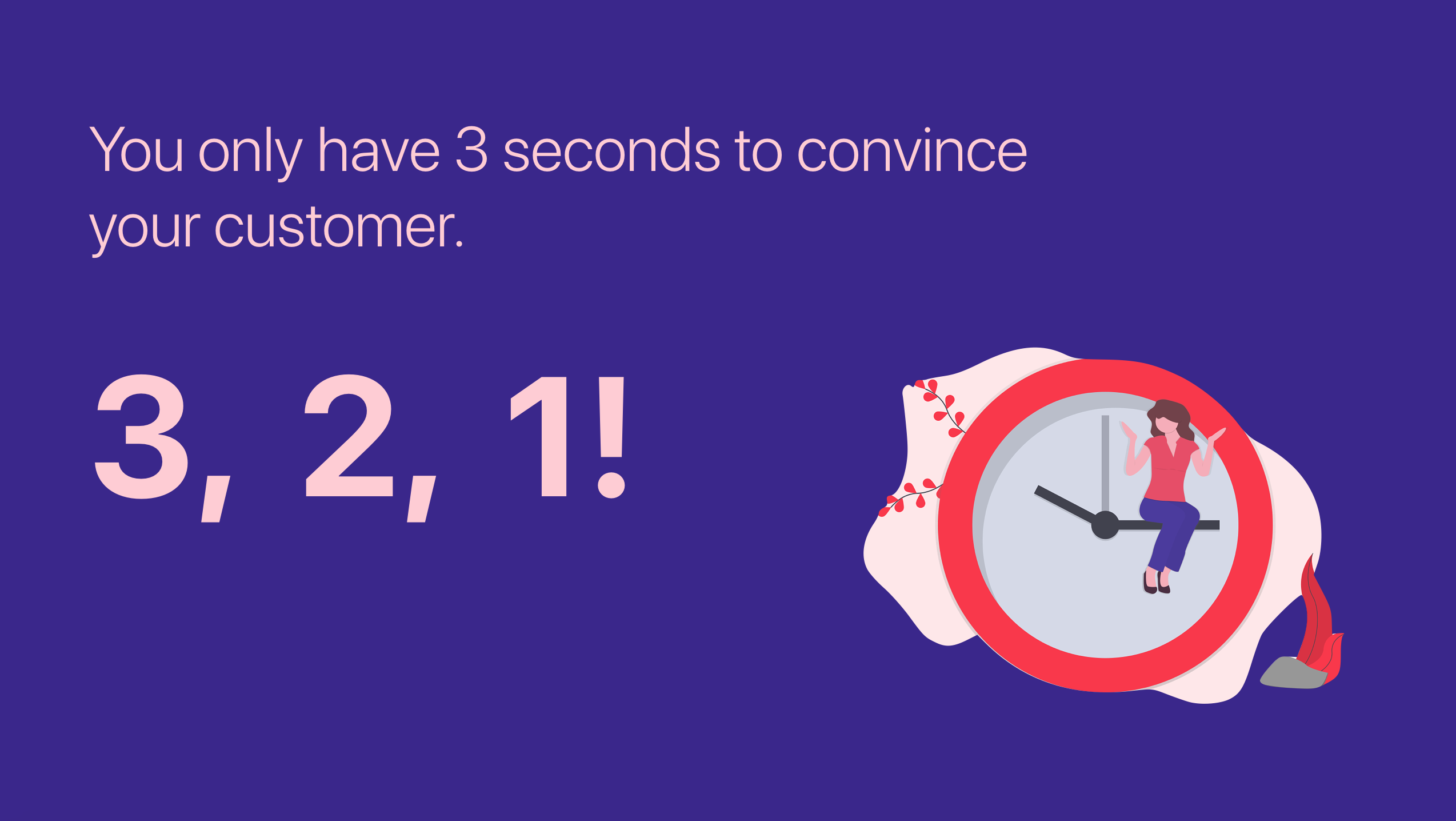 Here, rhetoric, stylistics, text linguistics and visual themes such as image selection, design, colours and the relationship between language and image interlock. The general consensus is: Images are better than text - the more precise the message is explained by images, the easier it remains in the mind. The first contact between the advertising image and the consumer is triggered by a visual stimulus. The memory processing of pictures happens within a few nanoseconds - the capture of letters (i.e. several pictures) until they are understood as words and then as sentences is a much longer process.
By the way: Those who cannot say in simple words what they are doing should rather rethink their communication strategy or even their product placement. Because questionability or misunderstanding persistently stay in the customer's memory. To push this dark cloud later again away from the brand requires much more complex communication.
5. Specific target groups with heterogeneous advertising messages
In order to communicate strategically, advertisers should know their target groups and choose appropriate measures and tools tailored to their needs and preferences. Locally and regionally appropriate communication also plays an important role. A standardized fancy slogan does not always help to get the advertising message into people's minds. Thus, youth language elements fit less into an advertisement for young professionals who want to identify themselves as serious and well-educated. The good will of the advertiser to be "up to date" most probably does not help here. Because: The worm must taste good for the fish, not for the fisherman! 
It is therefore important to clearly define and analyze your target group in order to hit their nerve with advertising. For example, phrases, dialectal vocabulary, specialist language or even foreign language can only be used if you know that the customer group will understand the advertising message. If one does not adhere to the language of the target group, advertising will not be received or will even be misunderstood. 
In order to determine target groups, it is essential to define targetable audiences. Building personas helps here. The personas should nevertheless exist in reality and should not have been developed in wishful thinking by creative minds. In the end it should be specific target groups, who can be segmented based on their behaviour and interests.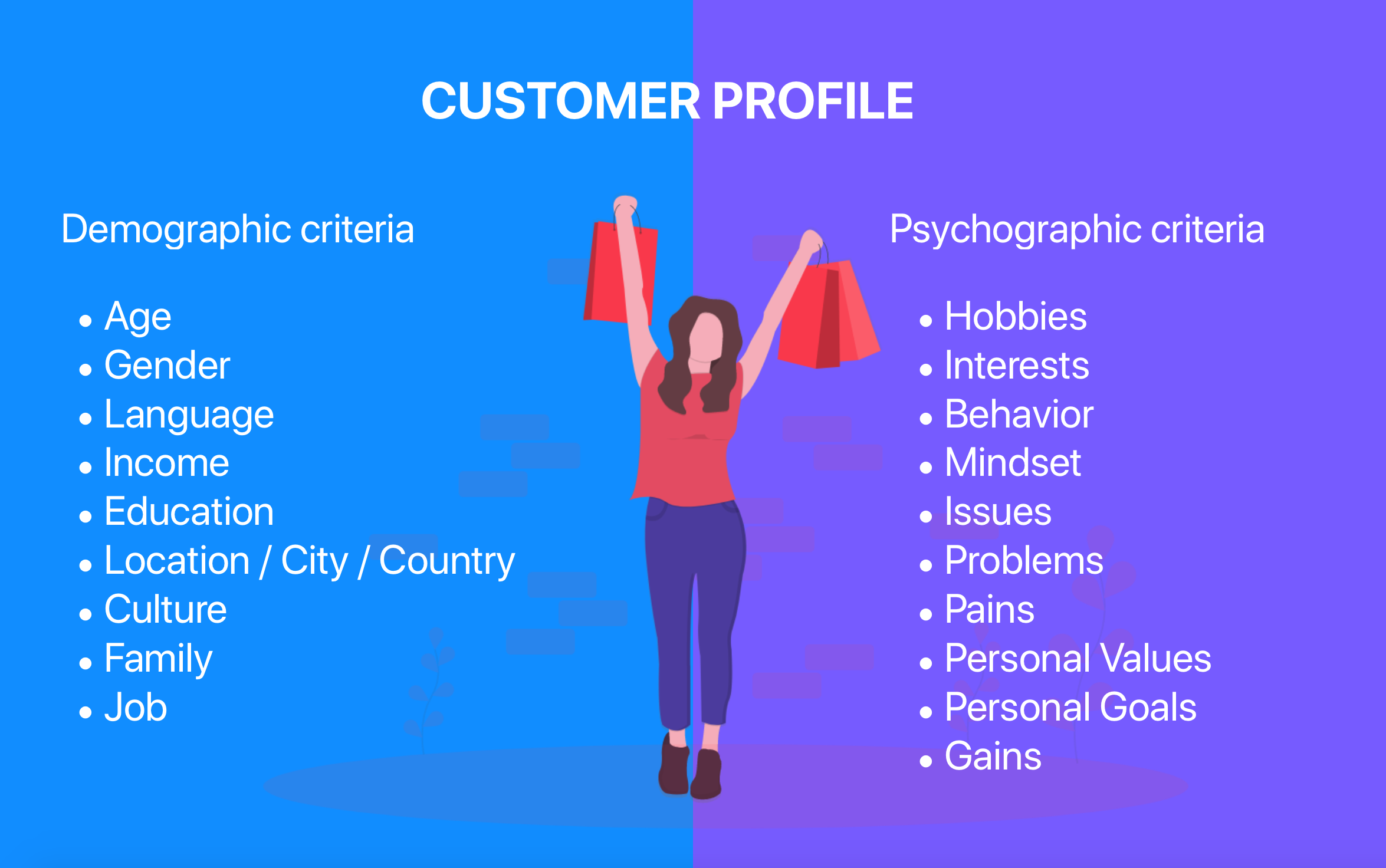 The goal should not just be to go out with a random advertising message, but to selectively choose advertising and communication that is appropriate for the target group! The same product can appeal to target subgroup A for a completely different reason than to target subgroup B. For instance, group A buys a car based on performance, group B buys a car based on driving safety. Therefore it is important to recognize: A wide variety of people can like your product - but not everyone loves your product because of the one single aspect.
Hence, you could advertise your product stressing different advertising messages. Simply illuminate different aspects and values of the product. Suitable for your target groups. Work with simple but targeted messages. 
6. influence the incentive to buy through emotional messages
To make advertising easier to remember, the target group should feel addressed by the advertising message. To achieve this, emotions that trigger emotions can help. How can emotions be generated?  Stimulating images that can evoke feelings are the best - as for example discussed in the study by Kroeber-Riel in 1993.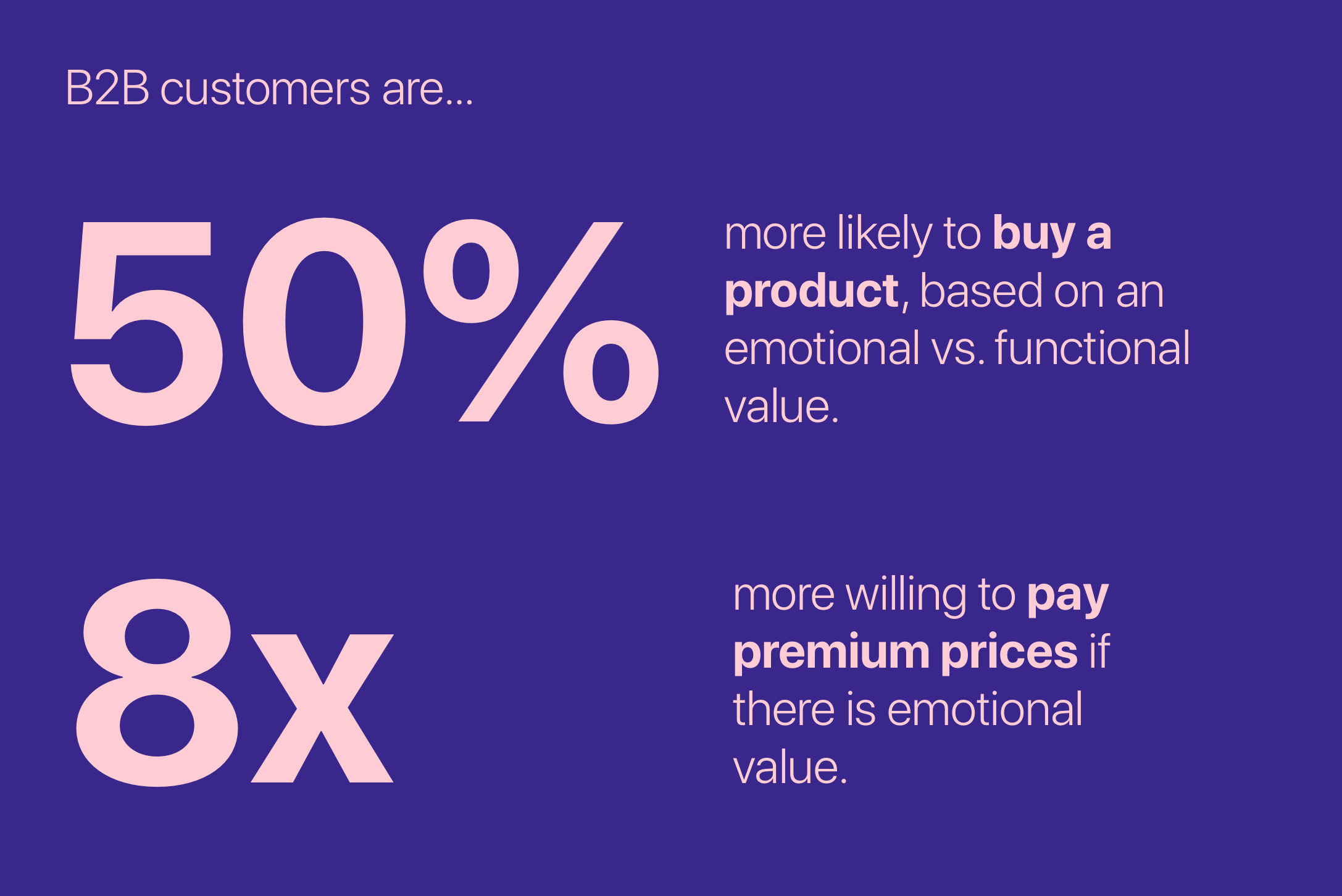 Schleier and Held (2006) have found that 95% of purchase decisions are triggered by the emotional factor. A distinction is made between 4 different emotional fields:
Happy

Extremely positive feelings - topics like joy, friendship, fun, love. They also trigger positive feelings.

Sad

Negative feelings - topics such as grief, pain, problems. Trigger compassion and movement.

Angry

Topics such as indignation, anger, grievances. Trigger a change of perspective and a discussion of the topic.

Fearful

Shocking feelings - topics like fear of life, warning. They act as a deterrent.
However, it must be noted that images are not always understood in the same way by all target groups or trigger the desired reaction. Regional as well as cultural differences are decisive in perception! Know your target groups in order to place pictures and emotional statements in the best possible way.
7. Put a Call-to-action
An advertising message can be very vivid still it might not clear what the audience should do with it. In addition to information about the latest products, current insights, arousing curiosity, etc., advertising should at least serve as a manifestation of brand quality and values. A call-to-action (CTA) can be either active or passive. Whereas active CTAs are eye-catching and attract attention in order to trigger a concrete action with the customer, passive CTAs are less obvious. They serve the information content or aim at a long-term posture manifestation. Passive CTAs also include hyperlinks. A CTA does not always have to initiate a request for action to purchase a product.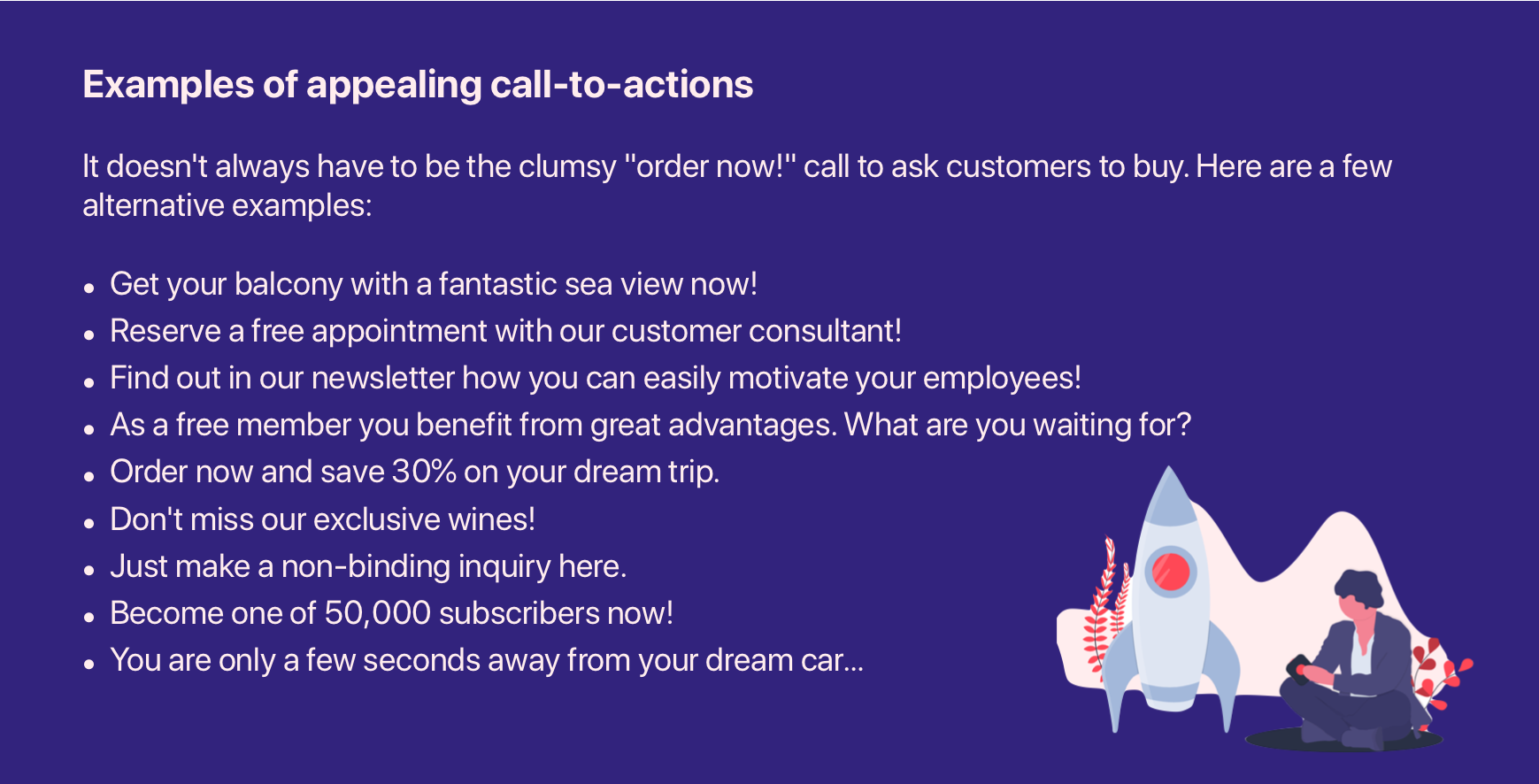 In general, the message should be short and crisp. In addition, it should not create ambiguities or ambiguities. You should consider the following to create a clear CTA for your advertising message:
Action 

An advertising message is most understandable when the message is formulated in an active way. In addition, it is more likely to trigger an action on the customer side. For this purpose words like buy, secure or test can be used. Passive language makes people feel less addressed. This also helps to avoid misunderstandings.

urgency

Today is better than tomorrow. On the one hand, a limited amount that is difficult for the customer to grasp can be set, such as "the first 1,000 customers receive a welcome gift". On the other hand, an end date of an action can also be communicated, whereby the customer has less uncertainty and knows correctly how long the temporary offer will be available.

scarcity

Good things are in demand. Good things sell fast. The fear of missing something - known as the fear of missing out (FOMO) - is a common action driver. Advertisers can use it in a targeted way by showing that a product or service is only available in a limited volume. Companies hope to increase demand.

The following expressions can be used to create a feeling of scarcity:

limited offer
obsolescent model
Only available here
Get it while it's still available.
Sale - ending soon
Only 5 available
Individuality

Add an individual touch to your advertising message. Do not use standard phrases or typical advertising words. Use unique, unmistakable vocabulary. This increases attention and sets your advertising apart from the masses of boring standard advertising texts. Another exciting approach is to place your value proposition in the CTA. The potential customer should recognize directly, which value he gets for your action - the value of purchasing your product or service.

Personalization

Mass advertising is the least popular. After all, you want to be addressed with things that seem relevant to you or that at least fundamentally suit you. Advertising for hair extension will most likely not attract bald people... Less obvious, however, is the fact that advertising in general can already appeal to the desired person, but often scatters many different types of people - and does not focus on the desired target group. For example, car advertising on a large scale in train stations certainly appeals to the one or other commuter who is interested, but a large proportion will not pay attention to advertising because of its individual irrelevance. Advertisers pay large sums of money to reach many people, to get a large reach - but ultimately over 80% of the advertising budget on average burns.

In order to address the relevant target group at the relevant location more easily, the word "you" or "she" can help. A personal salutation can move mountains. Customers feel addressed by these. In addition a personal approach of the advertising message gives a more talkative character and the reader has the feeling that you speak directly as a recruiter with it. Therefore personalized requests for action lead to a 42% purchase probability as generic ones. The more you can personalize your CTA, the better.

Exclusivity

People love exclusivity. They want things that others don't have. They want things that make them unique. As an advertiser you should therefore do things, to create a feeling of uniqueness and exclusivity.

Exclusivity does not necessarily mean luxury and expensiveness. It can also refer to exclusive coupons or discounts. You can either make these discounts available only to a certain group of people, such as your newsletter customers and club members, or you can place special offers on coupon websites such as Groupon. Otherwise, you can communicate discounts for a limited time or after a limited number. You can also create exclusivity by giving your customers the exclusive option to pre-order products . If there are only a limited number of products available, or if they are only available for a limited time, add value to your item. This can increase demand, with consumers making their purchasing decisions based less on logic than gut feeling.

You can create this feeling by using corresponding words and phrases in your advertising message. Such words could be, for example:

for members only
registration required
all seats already occupied
apply to become our beta testers
ask for an invitation
exclusive offers
be one of the few
become an insider
be one of the first
only available to subscribers
strong words

A campaign is intended to offer added value for the customer. This added value should be significant and give the customer a more positive feeling. Positive and convincing words fit in. Especially in today's world, which is mainly text-based. Here is a list of 15 strong words that will help you sell your product or service if used sensibly and appropriately:

you
warranty
result
health
discovery
verified
love
new
security / safety
now
for free
comparison
possibility
easiest
unique
You can also influence a CTA by creating curiosity. Enthuse your customers and try to arouse their interest in further information about the offer, the brand or the topic - this can even be in a funny or emotional manner. Another way is to ask questions. This is thought-provoking and has a personal character. It triggers similar reactions when you directly address the concerns of the target group. To be able to read and communicate the thoughts of the customers has a sympathetic effect. Target groups feel more addressed.
8. At the right time...
Timing is an important component in advertising. The perfect advertising message is ineffective when the time is inappropriate. Advertising for the latest Christmas item is no longer effective in February. Clearly: There are always good deal hunters, who are in the final sales shopping presents for the next year superior or are simply too late with their presents - but the large purchase rush will probably remain absent. In addition, we would risk unharmonising customers who would have liked to buy the product before Christmas. Have you ever bought something that was on sale shortly after?
But the question is still when is the right time for an advertising message aimed at a temporal event? Suppose your brand is in the fitness area and you want to run a campaign in time for people to care about their New Year's resolutions like "I need to lose weight! So when is the best time to advertise? The answer seems intuitive: of course in January. The answer is more complex than it seems. Here are key aspects that you need to consider:
Because there can be a high discrepancy between the personal feeling when the perfect time for promoting New Year's resolutions is and when people really think about the topic. Instead of asking the neighbor for his logical opinion, we recommend to form a strategy on a larger data basis. We research about Google Trends, at which time people are seriously interested in New Year's resolutions and searched on Google Search for tips to lose weight in the new year:
We can see that interest in New Year resolutions is moving seasonally. Over the last 9 years people have been looking for this topic in December / January. The peak repeats itself annually, whereby over the years the search for New Year resolutions has increased.
Going deeper into data, you see that New Year resolutions are not relevant throughout December and January. Whereby most Google searches on New Year's Day were registered, humans begin already at the end of December to be interested in the topic. One sees that not the entire January stands in the light of the New Year resolutions, but this a topic of the first monthly half is:
This finding shows that good common sense is certainly valuable - but if we hadn't taken a look at this solid data, we would have missed a relevant sales period. Now we know that advertising messages most likely convert to New Year's resolutions between Christmas and the first half of January.
The temporal component in even smaller units is also important: Even weeks or even days are not to be understood as a homogeneous unit. One advertising message fits better into the weekend, another one fits better into the early morning hours, whereby another advertising message is best converted when it is placed in the evening.
Starbucks could advertise early in the morning and inspire people on their way to work for a fragrant coffee. McDonalds could try to catch hungry commuters on their way home in the evening. IKEA, instead, could advertise on weekends, as then most people have time for things of private life, such as housework or decorating the apartment. When choosing the advertising channel, companies should therefore make sure that the advertiser has the flexibility to advertise dynamically only at certain times.
9. ... at the right place 
Therefore, the question now arises where to best place your advertising message. Intuitively the answer comes: "Where I can reach my target group best". However, the implementation usually fails. Advertisers usually resort to social media channels. Because there are "many impressions, little dispersion and a good price-performance ratio". What many companies forget, however, is to seriously question whether the target group really perceives the advertisements. Because in fact, only 9% of all advertisements on social media are "seen" at all.
But is it possible to place similarly efficient or even more successful ads in the focus of the target groups? Outdoor advertising especially in typical locations of the personas, for instance. Firstly, outdoor advertising is by far the most positively perceived advertising channel (Statista 2019). Secondly, it cannot be leafed through, switched off or removed with an ad blocker. And thirdly, it is located where personas stay every day in a completely natural way. Thus, advertising reaches a relatively much more relevant mass than on conventional outdoor advertising spaces such as in train stations, which reaches many people, but cannot specifically address any target groups. The old school insists on CPT and a high reach - but it is not much more successful to find very specific personas in everyday life instead of "commuters"?
Companies can book advertising space in e.g. doctor's offices or perimeter advertising in stadiums via scattered, small-scale providers. The market here is however intransparent and the reservation extremely complex. A transparent price overview as well as real-time advertisement makes it impossible the forest at past offerers. A transparent and simple alternative offers FRAMEN.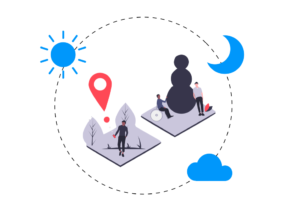 10.  Don't forget to measure the impact of your ad!
measurements are useful to determine whether the measures taken have worked as planned or not. If an advertising medium offers the possibility to adjust criteria of the advertising campaign or the placed advertisement, adjustments can be made on the basis of conversion rates and other generated data. Learn, improve, learn, improve, ...
image sources: Adobe Stock (title), own