Customer top-loyalty via outdoor advertising
Achieving more than just customer satisfaction
Advertising in public space offers advertisers a number of advantages. Why outdoor advertising in particular creates a significant targeted expansion of reach, acceptance and valuable trust among customers is something we will look at below. By this you can effectively influence customer loyalty!
Outdoor advertising. Thus, advertising outside the private four walls. But why is this form of advertising so popular among advertisers? It's quite clear: outdoor advertising or out-of-home (OOH) advertising gets rarely consumed alone.Quickly ads can be noticed - even by a large crowd. But billboards, large posters and flags are no longer the only surfaces. In recent years, advertisers have been relying more and more on creative and interactive methods to reach customers.Following the aim of building trust and customer loyalty.
Advertising in the middle of the customer's life
specially advertisements, ideas and impulses in public spaces remain easier to remember. Even though outdoor advertising initially indicates advertising outside the home, it is actually more likely to be in the midst of the life of the mobile person. Slogans and pictures accompany us on our way to work, to school or to the café. They bring colour and variety into our everyday lives. What we see together brings up topics of conversation and can even spread verbally like wildfire.
Target group-specific outdoor advertising brings presence
With its visual spatial presence, OOH advertisements also enliven the urban environment. And especially: It can neither be flipped over, overheard nor switched off. But could this actually disturb customers? Not at all. Because consumers perceive OOH-ads as a pleasant medium. The main reason: Outdoor advertising does not abuse personal, mobile devices (click here for the article "Offline advertising: more efficient to the target group than social media"). Discreet and yet creatively placed for a fruit-bearing perception.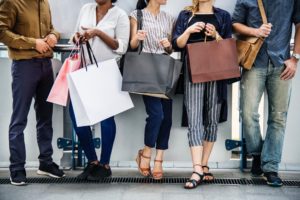 In addition, a promising approach is to reach target groups locally through OOH advertising: If one assumes that a majority of the population moves outside their homes at least once a day - or more precisely - is at least once a day at a typical target group location, it is quite likely to reach the right consumers out of home. Nice side effect: Contextually and locally suitable advertising appears trustworthy.
106% stronger perceived brand quality thanks to OOH advertising
Companies using 15% or more of their media budgets for outdoor advertising recorded a increase in brand confidence of 24%. It is noteworthy that the perception of brand quality even increased by 106% - according to a recent study by Rapport, the OOH department of IPG Mediabrands, about which The Drum reports. The study shows that an investment in OOH campaigns with clever elements is definitely worthwhile: Outdoor advertising creates a considerable increase in customer loyalty and already demands a brand perception for advertising companies.
Image sources: Adobe Stock, Nanoblock (Advertising picture with dog)